Current Issues
MGCA continues to monitor issues that may affect your golf course. Please contact our office if you have any questions about a specific bill.
Click on the image below to read and download the 2021 MGCA Legislative Priorities.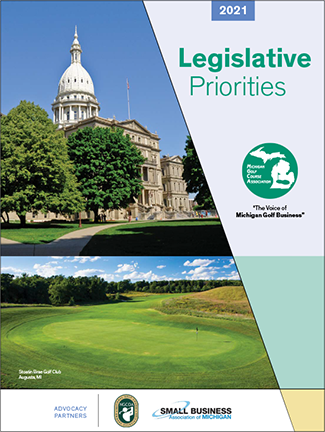 ---
February 12, 2021 Call to Action
The MGCA Board of Directors asks you respond to the CALL TO ACTION put together by our strategic partner, Small Business Association of Michigan.
The Raise the Wage Act of 2021 proposes a number of minimum wage adjustments starting with an increase of $2.25/hr. on the first day the law takes effect, thereby increasing the federal minimum wage to $9.50/hr.
After that the federal minimum wage rate will annually increase to the $15/hr. rate in 2025.
2022: minimum wage goes to $11.00/hr.
2023 increases to $12.50/hr.
2024 increases to $14.00/hr.
2025 increase to $15.00/hr.
What else does this bill propose?
It gradually eliminates the $2.13 subminimum wage rate used for youth and disabled workers by 2026.
It will also phase out the subminimum wage for tipped workers creating a catch-up to the full minimum wage rate by 2027.
It indexes the federal minimum wage to the median wage growth meaning as the median wage rate increases by way of employer wage increases this will increase the federal minimum wage rate
CLICK HERE to contact your Legislators in Washington D.C.

---
AUGUST 2020
August 31, 2020: Michigan Golf Course Association, the Small Business Association of Michigan and several other organizations have joined together to urge the legislature to take up common sense legislation to protect Michigan's businesses.

As Michigan's businesses continue to reopen, the state must provide assurance that they will not be subject to frivolous lawsuits and excessive liability, particularly in fragile economic times. The proposed legislation will also make necessary changes to the MI Occupational Safety and Health Act (MIOSHA) and codify employment protections for workers.

The Michigan Legislature is taking this bill package up this week, so please act quickly and reach out to your State Legislators and the Governor to urge them to support HB 6030-6032!
August 5, 2020

Earlier this week, Michigan Golf Course Associatoin joined with fellow statewide tourism organizations to send a letter to Governor Whitmer. The ask? To utilize some of the Federal CARES Act Funding towards Pure Michigan.

The Pure MI campaign line item has been left out. However it can be funded with the Federal CARES Act. With less than $100 million left in current funding for Michigan, our letter urges Governor Whitmer to use some of this federal funding towards our very important Pure Michigan campaign.

Please feel free to use this letter (click here) as a template for your own to Governor Whitmer or your legislators.

Other states have successfully received this for their statewide tourism budgets and we are asking Governor Whitmer the same for Pure Michigan!
Governor Whitmer Executive Orders
MARCH 2020
Daylight Savings Time Update: Current action taken: Click here to read letter to House Ways & Means Committee.
Pure Michigan Update: Approved supplemental budget restores funding to Pure Michigan.
DECEMBER 2019
DOL Wage and Hour Issues Fact Sheet to Clarify New Exemption Regulations
The new salary level test for wage and hour exempt status goes into effect January 1, 2020. The new regulation raises the salary level test to $684/week or $35,568/year. This means for a position to be classified as exempt (Executive, Professional, or Administrative) and be paid on a salary basis while meeting the duties tests of those exemptions, it must be paid at least the salary above. That is unless the employer chooses to use a non-discretionary bonus to meet, at most, 10% of the minimum salary level.
Fact Sheet 17U, put out this month, clarifies this new regulation. An employer may reduce the salary threshold by 10% if it also pays a non-discretionary bonus to that position. The Fact Sheet states only non-discretionary bonuses may be used to satisfy this requirement. A non-discretionary bonus and incentive pay including commissions are those that are "guaranteed" to a worker if certain conditions are met. These are bonuses "based upon a predetermined formula… bonuses for quality and accuracy of work, retention bonuses, and commissions based on a fixed formula." 29 C.F.R.778.21 (c ).
FACT SHEET FROM DOL
CLICK HERE FOR CALL TO ACTION TO GOVERNOR to Restore Pure Michigan Funding
NOVEMBER 2019
Letter to Representative Brandt Iden in opposition to ending DST
OCTOBER 2019
MGCA Board of Directors and Government Affairs Committee sent this letter in response to Governor Whitmer vetoing the Pure Michigan funding for 2019-2020. CLICK HERE FOR LETTER
CLICK HERE FOR CALL TO ACTION TO GOVERNOR
CLICK HERE FOR LETTER TO GOVERNOR FROM Members of the Michigan Golf Alliance
PRESS RELEASE FROM TOURISM INDUSTRY COALITION OF MICHIGAN
MGCA's Tom Schwark takes a seat on SBAM's Legislative Action Council. Congratulations, Tom!
SBAM's Legislative Action Council is a premier group of small business owners that directly makes all decisions regarding SBAM's involvement in public policy issues. As a member of the LAC, Tom will be a part of quarterly meetings where the Council will go through in-depth public policy with expert presentations and roundtable discussions on pressing matters in Michigan politics. Through this process the Legislative Action Council looks at pressing topics to interpret the impact on Michigan's small business community as a whole, whether or not SBAM should engage in the policy discussion, and assists in creating the plan for SBAM's team of lobbyists moving forward to impact that policy.
With Tom's past work as the MGA's Government Affairs Chair, he will be a fantastic addition to the Council and provide much needed insight on the overall impact public policy has on Michigan's golf industry.
Read more about SBAM's Legislative Action Council....
JUNE 2019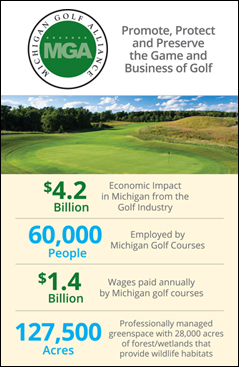 The Michigan Golf Course Association is the "Voice of Michigan Golf Business" and advocates daily on the economic impact of the golf industry in Michigan.
The MGCA government affairs takes the lead in legislative advocacy for the golf industry in Michigan. We need YOUR voice to make the MGCA voice louder.
MICHIGAN GOLF DAY AT THE CAPITOL June 6, 2019
Allied Golf Associations Join Forces to Bring Message to Legislators
LANSING – "Let's do lunch at the turn Michigan Legislators!"
The Michigan golf industry will share its message with each state legislator on Thursday, June 6, by presenting the popular Michigan Golf Day at the Capitol event.
The Michigan Golf Course Association, the Michigan Golf Course Superintendents Association, the Michigan Section PGA, the Golf Association of Michigan, the Greater Michigan Club Managers Association, and the Michigan Turfgrass Foundation, which form the Michigan Golf Alliance, will convene on the lawn of the state Capitol and visit with each legislator.
"The Michigan Golf Alliance created this event to facilitate golf industry representatives introducing themselves and informing the Legislators and their staff on who we are and what our industry brings to the State of Michigan," Jada Paisley, executive director of the MGCA said. "I can't overstate the importance of this day in delivering the message to our government leaders."
MGCA Thanks Senator Ken Horn for his support of Pure Michigan
Supreme Court Update on Minimum Wage Update and Paid Leave Changes
Click here for amended bill on Minimum Wage
Click here for amended bill on Paid Sick Leave
Daylight Savings Time appears this time every year. Read the 2017 testimony that we remind our legislature of every March
DECEMBER 2018
The Voice of Michigan Golf Business" Heard!
MGCA and the Small Business Association of MI have been working together
to minimize the effects that the minimum wage and earned sick time bills will
have on your business!
Legislature passes amendments on Minimum Wage and Paid Sick Leave
SEPTEMBER 2018
Proposal Summaries: Michigan's Time to Care (Paid Sick Leave) and
One Fair Wage (Minimum Wage)
AUGUST 2018
"The MGCA joins the Small Business for a Better Michigan coalition to support LegislativeAdoption of the MI Time to Care ballot proposal"